Camping, Protesting and Homelessness now Illegal in Tennessee
                                                                                  Ever been homeless?
                                                                                 No?
                                                        Well, what would you do if you ever where?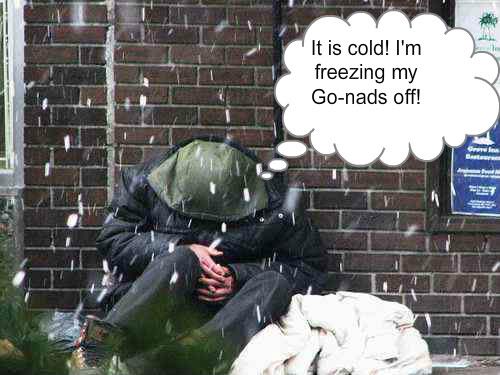 Well, as bad as that may look with over crowded shelters for some people such as the mentally disabled, war veterans, and the elderly are finding them self occupying spots on public property funded by the tax payers.  With very little other choice.
                                          These Homeless are becoming very versatile with the falling economy.
                                                                                           Even full families are in this boat.
Well, now the state of Tennessee has an alternative to the problem. If you are homeless and occupying public property you will get a lovely 11 months and 29 days in the slammer.
                                                                     With a fine of 2,500 dollars. . . . .
                                                                                      Wait.
                                                                                      What?
These guys cant afford a cup of coffee and they want them to pay 2,500 bucks because their economy is in the crapper and they lost there jobs?
On top of that, this will also effect outdoors men. No more popping up a tent and camping out over night for that fishing trip with little Johnny.
Bill HB2638/ SB2508  
Was aimed to stop the Nashville Occupy Movement.  Oh, didn't know that was still going on? Well, even though the news is barely covering it, this movement has been going strong for months with the backing of others throughout the state. A lot of those within the movement do fall into the groups of homeless people we mentioned above. All of them are fighting corporatism and laws such as HB2638/ SB2508.
Bill HB2638/ SB2508. Reads as Followed : Criminal Offenses - As introduced, prevents people from living on publicly-owned property not designated for residential use and prohibits people using publicly-owned property from posing a health hazard or threat to the safety and welfare of others. - Amends TCA Title 4; Title 12; Title 29; Title 39 and Title 40.
Which mean NA NA NA NA NA NA to the Occupiers and the big middle finger to every one else.
We can not blame the Occupiers any more then we could blame Rosa Parks for not moving that day on the bus. They are in there constitutional rights to occupy and protest. The state however has caused a huge breach in our constitutional rights. With but one law they have made it Illegal to camp, lose your home or stand up for your rights.
                                Here is an announcement video I found on youtube.
 In response to this video how is one able to protest 24 hours a day if there not allowed to stay over night to do so?
As well Occupiers won't be the majority that is effected by this bill it will be the truely homeless.
Written By: Misty Watson
Edited By: Shawn Watson
Source:  http://wapp.capitol.tn.gov/apps/BillInfo/default.aspx?BillNumber=SB2508